Division of Behavioral and Social Sciences and Education
Works to advance the frontiers of the behavioral and social sciences and education and their applications to public policy. Read more
Division on Earth and Life Studies
Conducts a range of activities where policy meets the life sciences, including the environment, geography, laboratory animal use, and natural resource issues. Read more
Division on Engineering and Physical Sciences
Focuses on government missions in defense, space, and aerospace; national infrastructure challenges; science and engineering disciplines; and continuing assessments of federal labs and research programs. Read more
Health and Medicine Division
Identifies concerns in medical research, care, and education and examines policy matters relating to health care and public health. Read more
Policy and Global Affairs Division
Works to improve S&T public policy, understanding, and education, particularly with regard to national strategies and resources, global affairs, work force, and the economy. Read more
Transportation Research Board
Provides leadership in transportation innovation and progress through research and information exchange. Read more
Thirty-year research program that focuses on human health, environmental protection, and oil system safety in the Gulf of Mexico region. Read more
The U.S. needs stronger policies and guidance to combat Legionnaires' disease, a form of pneumonia caused by inhaling air contaminated with Legionella bacteria from water systems, says a new National Academies report
A new National Academies report proposes a road map to advance health equity in early childhood and includes recommendations related to family leave policies, food assistance programs, early education programs, and the health care system.
A new National Academies report proposes a centralized national plan for cancer control, which would integrate organizations, resources, and care delivery processes to improve outcomes for patients and society.
Federal investments are imperative for continued success in highway innovation, says a new National Academies report.
Featured Reports from the National Academies Press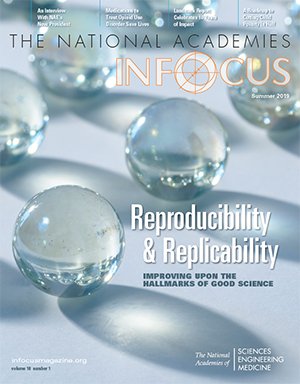 Vol. 18/No. 1
Summer 2019

The National Academies In Focus, a magazine featuring the activities and work of the Academies.
View the latest
Report to Congress
, which highlights the Academies' work from 2018.